Top Safety Tips for Motorcycle Riders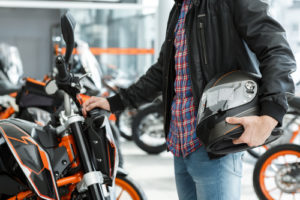 Most people know that spring and summer are just around the corner, meaning that it is peak time for motorcycles to come out on the roads. Being mindful of motorcycle safety tips in New Jersey can help to prevent against serious accidents and the resulting injuries. Motorcycle safety tips must be considered by anyone who operates a motorcycle. A motorcyclist cannot count on other drivers on the road following necessary laws and protecting them.
Riding in a Blind Spot Can Cause Accidents
The best way for motorcyclists to remain safe is to constantly avoid staying out of the blind spot and verify that their bike has appropriate maintenance. In the event that some accidents cannot be avoided, as is commonly the case when another motorist has not given a motorcyclist the same duty of care that he or she should, the motorcyclist will want to have appropriate safety gear including a properly fitting helmet to avoid catastrophic injuries.
Common Injuries in Motorcycle Accidents
Motorcycle accidents often result in severe injuries including road rash, fractures, broken bones, TBIs, spinal cord injuries, and more. Drivers should be mindful of looking in their rear view and side mirrors but unfortunately, motorcyclists cannot count on drivers to always give them the appropriate attention that they deserve. In many cases involving motorcycle accidents, a person who was seriously hurt or killed, appeared to be in the blind spot of the driver. Giving appropriate space between vehicles in front of you and vehicles beside you is extremely important to ensure that another driver can see you while on the road.
What to Do if You're Hurt in an Accident
If you were already in a motorcycle accident, swift action to review the scene of the incident and to gather evidence is necessary. If you need assistance with all aspects of your legal claim, set aside time to talk with an injury lawyer like Andrew Prince in Clark, NJ. Contact our firm today.
The articles on this blog are for informative purposes only and are no substitute for legal advice or an attorney-client relationship. If you are seeking legal advice, please contact our law firm directly