New Jersey Helmet Law and Other Important Issues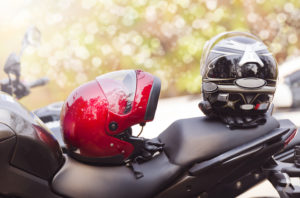 P.L. 39:3-76.7
By:   Andrew S. Prince, Esq.
Attorney
1-(800)-TEAM-LAW (832-6529)
aprinceesq@aol.com
Contact Me for a Free Consultation!
No person shall operate or ride upon a motorcycle unless he/she wears a securely fitted protective helmet of a size proper for that person and of a type approved by the Federal DOT.   Such a helmet must be equipped with either a neck or chin strap and have reflectors on both sides.
Statistics show that inexperience and a lack of proper training are key contributors to fatal motorcycle accidents. Among all riders, motorcyclists ages 20 to 29 have had the largest percentage of fatal crashes.
Call Rider Education of New Jersey now.   It is the oldest and the best teaching and refresher course school in the State.   (732) 572-0800.   Take a friend.   Take your club.   But do it now.   Check out their website.
Remember, as long as your helmet has a strap and reflectorized on both sides you are in compliance.   A DOT sticker is not required.
If you have any questions or would like to discuss this further, please feel free to contact me here at 1-800-TEAM-LAW (800) 832-6529.   You can also email me at aprinceesq@aol.com.   There is never a charge for a consultation.   I am here to help you.
Andrew S. Prince, Esq.
TEAM-LAW
136 Central Avenue
Clark, NJ 07066
(732) 388-5454
1 (800) 832-6529
(732) 388-8711 — Fax
Aprinceesq@aol.com
Additional Offices in New Jersey
Edison, East Brunswick, Jersey City,
Newark, Orange, Perth Amboy, Westfield
and West New York