Motorcyclist Left Seriously Injured After Dangerous Collision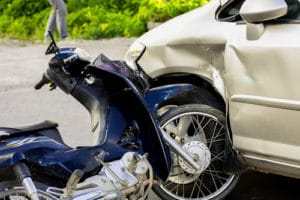 On Route 17 a man on a motorcycle was left in serious condition after colliding with another vehicle during the middle of the day.
On the Saturday afternoon, around 3 p.m., the police received a call of a "bad motorcycle accident" on Route 17. Authorities did not specify the exact location on the road, but they did mention the vehicles were both traveling southbound, just south of Franklin Turnpike. This was in Ramsey.
The exact details of the crash have been under investigation, but it is suspected the motorcycle lost control somehow, and collided with the back or the side of a vehicle. Police officials do not suspect drugs or alcohol to have played a factor in the accident.
Police have not stated whether or not the driver was wearing a helmet, though, it is safe to assume that he was, as a crash at this speed would have left his chances of survival to be quite slim without one.
When the police arrived on the scene, the man was responsive, though clearly in a bad state. They had him airlifted to a nearby medical center in Paterson. As of the time that he arrived in the medical center, his condition was not released, but it was reported that he is alive.
This motorcyclist was very lucky to have lived through such a serious accident. In many cases, those involved in such serious motorcycle accidents are faced with much worse results. Chances are, he was wearing a helmet — something that is known to increase chances of survival during motorcycle accidents by almost double. If you are a motorcycle rider, make sure to always be wearing a helmet.
While a helmet may save your life in the case of an accident, it does not always prevent serious injury. If you or a loved one has been seriously hurt in a motorcycle accident, consider attorney Andrew Prince. He is highly qualified in motorcycle accidents, and will fight tirelessly to get the compensation you deserve. Contact his office today to schedule a consultation.
The articles on this blog are for informative purposes only and are no substitute for legal advice or an attorney/client relationship. If you are seeking legal advice, please contact our law firm directly.