Driving Tips to Share the Road with Motorcyclists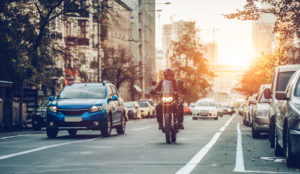 Drivers on the roads today must have an eye towards proper safety to share the road with motorcyclists. With the arrival of spring weather, more bicyclists and motorcyclists are taking to the roads.
Motorcyclists should always be aware of their surroundings. Although more people on bikes are always a sure sign of spring and summer, you can't count on drivers of traditional cars to keep an eye out for motorcyclists.
Avoid Accidents by Sharing the Road
Many people don't know how to appropriately share the road with a motorcyclist and this unfortunately leads to far too many preventable accidents and severe injuries. Motorcyclists can do their own due diligence by ensuring that they have the right personal protective equipment including foot protection, protective clothing and a helmet that is properly fastened under the chin.
Drivers should be aware of the fact that motorcyclists are often more difficult to spot as they can easily slip into a blind spot or be riding together with other motorcyclists and sharing a lane. This can be extremely dangerous for a driver who only sees one of the cyclists or doesn't spot them at all.
If you have already been involved in an accident with a motorcyclist, it is important to conduct a thorough investigation of how the accident occurred and to chart a plan going forward for the best way to protect yourself.
Do You Need to File a Personal Injury Claim?
Sharing the road with motorcyclists means that every person on the road, whether operating a truck, car or motorcycle, should give everyone else the same duty of care that they would expect. This can help to minimize the chances of catastrophic accidents and resulting injuries as well as the personal injury claims that often follow.
Injury lawyer Andrew Prince helps clients in Clark, NJ, who have already been hurt in a serious accident. Please contact our firm today.
The articles on this blog are for informative purposes only and are no substitute for legal advice or an attorney-client relationship. If you are seeking legal advice, please contact our law firm directly