As The Weather Begins To Improve Be Aware Of The Motorcyclists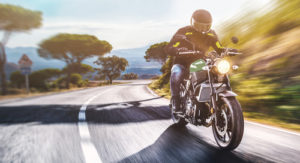 By: Andrew S. Prince, Esq.
Attorney
1-(800)-TEAM-LAW (832-6529)
aprinceesq@aol.com
Contact Me for a Free Consultation!
While riding motorcycles may be our passion, it is an unfamiliar method of transportation to the majority of the public. Commonly, motorcycle accidents result in serious injuries. Operating a motorcycle on the roadways requires safety measures, especially in New Jersey.
Some of the most common causes of motorcycle accidents occur as a result of the following:
Inexperience. It is important for a motorcyclist to have formal training and safety education prior to operating the motorcycle, especially on major highways or in heavy traffic conditions.
Weather. Factors such as rain, sleet, snow, and ice can lead to serious accidents. Motorcycles have less traction than an automobile and should not be driven in poor weather conditions.
Speed. Speed is a contributing factor in most motorcycle accidents. Traveling at a high rate of speed may cause the operator to lose control of the motorcycle. Given the lack of physical protection, these accidents can be fatal.
Left Turns or Weaving Between Lanes. Automobile drivers may have a hard time seeing an approaching motorcycle, especially if the operator is speeding. If a driver misjudges a motorcyclist's distance, he or she may merge or turn into the person. It is important for a motorcyclist to always be aware of his or her surroundings.
Alcohol or Drugs. Alcohol and drugs should never be used when operating any vehicle, but especially not a motorcycle. Operating a motorcycle under the influence will affect a person's cognitive and physical abilities.
Road Conditions.  Unsafe road conditions provide less traction for the motorcycle. Hitting a pothole, sand or gravel can cause the motorcyclist to fall or drift off course into incoming traffic. Doing tricks while operating a vehicle not only poses a risk of injury to the motorcycle operator but to all motorists on the road.
While motorcyclists must take extra precautions on the road, the majority of the accidents occur as a result of another driver's negligence. If you or someone you love has been injured in a New Jersey motorcycle accident as a result of someone else's negligence, contact me, Andrew S. Prince, so that I may assist you in receiving the compensation you deserve.
I am a skilled New Jersey motorcycle accident attorney who will fight for the compensation you deserve. For more information or to schedule a free initial consultation with Andrew Prince, call (732) 388-5454 or visit my website (www.motorcycleinjurynj.com) first to further review my qualifications to help you.
You can contact me here at 1-800-TEAM-LAW (800) 832-6529. You can also email me at aprinceesq@aol.com or fax me at (732) 428-1509. There is never a charge for a consultation. I am here to help you.
Andrew S. Prince, Esq.
TEAM-LAW
136 Central Avenue
Clark, NJ 07066
(732) 388-5454
1 (800) 832-6529
(732) 388-8711 — Fax
Aprinceesq@aol.com
Additional Offices in New Jersey
Edison, East Brunswick, Jersey City,
Newark, Orange, Perth Amboy, Westfield
and West New York