Rider Hit By Cars After Losing Control Of Motorcycle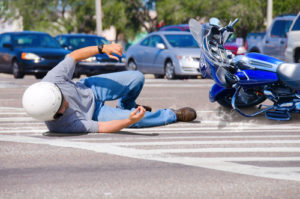 A recent motorcycle accident showcases a horror that riders can experience while on the road. In this particular instance it was not the actual accident that proved fatal to the motorcyclist.
A rider was riding his wife's 2001 Suzuki GSX on I-95 when he suddenly lost control of the bike. He was ejected from the seat of the motorcycle after crashing into the median. He landed in the roadway and that is when things took a turn for the worse.
The motorcyclist was then struck and killed by two cars that did not stop to help the injured rider. The two vehicles, which most likely sustained front end damage, continued on their way without stopping, leaving the man's wife to wonder why they would do such a horrible thing.
The accident took place just before 10 p.m. on a Sunday night and police were seeking out any and all eye witnesses. A few witnesses did tell police the make and model of the two vehicles involved.
In no world will the drivers of the two vehicles not be responsible for the wrongful death that occurred following that accident. On top of that, it is much much worse that they fled the scene of the crime.
A fatality is the worst catastrophic injury a motorcyclist can suffer while riding. The impact of such an incident can be extremely tolling on those he leaves behind.
Not only will the wife have to deal with the loss of her husband, but she will also have to deal with the financial burden a sudden death in the family can incur.
For starters, there are funeral fees and costs that need to be paid for. In addition, there might be potential income that will no longer be earned because of the motorcyclist's death. The insurance company will most likely also get involved, really just making the situation more traumatizing than it needs to be.
That is why an accident of this caliber requires the expertise of an experienced motorcycle accident attorney like Team Law's Andrew Prince, who exclusively handles motorcycle accidents and injuries.
Attorney Andrew Prince has over 25 years of representing people injured in motorcycle crashes, swell as their families. He knows how unfortunate an untimely death is and how it can impact a family and their finances. He prepared and more than capable to make sure you get the compensation and justice you deserve so you can get back to picking up the pieces and moving on with your life.
Andrew Prince offers a free initial consultation. Contact his office today at 1-800-832-6529 to begin discussing your case today.
The articles on this blog are for informative purposes only and are no substitute for legal advice or an attorney/client relationship. If you are seeking legal advice, please contact our law firm directly.