Motorcyclist Killed in Crash on Garden State Parkway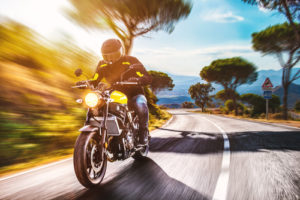 One common type of motorcycle accident occurs when the motor vehicle or bike rear-ends the other. Due to a motorcycle's small frame and lack of protective doors for the driver, rear-end collisions are especially dangerous for motorcyclists. Last month, a biker was pronounced dead at the scene of a tragic accident near mile-marker 127 in Sayreville. State police responded to the accident on the Garden State Parkway and found that the motorcycle had rear-ended a car. The motorcyclist was sadly thrown from the bike and was killed, while the car driver suffered from head and neck injuries.
Statistics gathered by the National Highway Traffic Safety Administration show that over 80 percent of motorcycle crashes result in catastrophic injuries for the biker. Sadly, motorcycle riders are more likely to sustain injuries in areas like the brain, spinal cord, neck, and legs. When riders are thrown from their bike, they are likely to get road rash and burns. Broken bones, traumatic brain injuries, paralysis and wrongful death are all devastating damages commonly reported after bike accidents. While you are recovering from your personal injuries, you will probably receive a call from your insurance company asking you about the medical treatment you received. It's important to reach out to a legal representative before speaking to your insurance company about the injuries you sustained. Insurance companies seek to minimize financial compensation paid out in claims, so it's prudent to seek legal counsel first.
Motorcycle injury attorney Andrew Prince specializes in representing clients who have suffered injuries as the result of a motorcycle crash. He has worked exclusively in this area for over 25 years, so you can rely on his trusted strategies to give you an advantage in court. His aggressive representation will ensure you receive your rightful compensation for any injuries and damages you sustain during the accident. Call attorney Andrew Prince now at 1-800-832-6529 or fill out our convenient online contact form to get started today.
The articles on this blog are for informative purposes only and are no substitute for legal advice or an attorney/client relationship. If you are seeking legal advice, please contact our law firm directly.