Tips for Riding Your Motorcycle in the Dark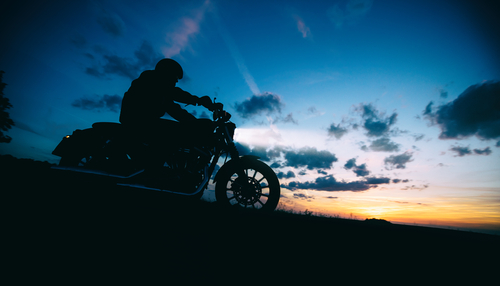 As we approach fall and winter, the days get shorter and nightfall comes even sooner. If you want to maximize the number of motorcycle riding days you have left in the season, it's likely that you may be riding into the dark hours. These tips can help you improve your safety when riding in the dark.
Check Your Motorcycle's Lights
Now is a good time to check that all your motorcycle's lights are working. Good lighting is important not only for your visibility but so others can see you on the road. Clean your headlights often and have them replaced when needed. It may also be a good idea to clean or change your visor.
Wear Light Colors
You can also improve how well others notice you on the road by wearing lighter colors or reflective items. Reflective tape can be an effective and affordable way to improve visibility.
Keep up With Motorcycle Maintenance
Motorcycle maintenance is a common task during the spring months. It's just as important in the fall, especially if you plan to continue riding late into the year. Make sure you complete all the recommended maintenance tasks, like replacing your tires when needed, or tuning up the engine on a regular schedule.
Check Your Brakes
Your brakes are important for coming to a complete stop. Don't wait until the last minute to change them. Instead, get in the habit of checking or replacing them on a consistent schedule. If you continue to ride late into the year, you might also consider protecting your tires with a corrosion-resistant product.
Brush Up on Safety Laws and Rules
Nighttime driving is much different than daytime driving, just as riding during fall and summer differs. Now is a good time to go over your safety training, and consider any adjustments that you may need to make to accommodate the new driving conditions. For example, you may need better tires to accommodate slippery roads.
Stay Alert
Being alert is crucial, whether you're driving your motorcycle during the day, or at night. But, when you add in reduced visibility that comes with darker driving conditions, it can increase your risk when distracted driving. Avoid all distractions, including using a mobile phone or adjusting your motorcycle radio.
Injured in a Motorcycle Accident?
Being more aware and keeping up with preventative maintenance are great ways to improve your safety when night driving. However, they are not a guarantee that an accident won't occur. You're also subject to other drivers and their behaviors when on the road. If you're injured in a motorcycle accident, whether it occurs during the day or night, it's also important to know what to do to protect your rights.
If you believe that someone else is the cause of the accident, it may be worth it to pursue legal action. Drivers who engage in distracted driving, or who are under the influence, can pose a dangerous risk to motorcyclists. If this leads to your injuries and expensive costs, consider what legal options you may have.
Contact an Elizabeth Personal Injury Lawyer to Discuss Your Motorcycle Accident Case in New Jersey
Did you or a loved one sustain serious injuries due to an accident in New Jersey? Don't let the medical bills pile up while you wait for the negligent party or their insurance company to do the right thing. Right now, you need an aggressive personal injury attorney on your side, fighting to get you the compensation you need, want, and deserve. Andrew Prince Esq. represents clients injured because of motorcycle accidents in Newark, Jersey City, Paterson, Elizabeth, and throughout New Jersey. Call (908) 304-9187 or fill out our online contact form to schedule a free consultation about your case. We have an office conveniently located at 136 Central Avenue, Clark, New Jersey 07066, as well as an office in West New York, NY.
The articles on this blog are for informative purposes only and are no substitute for legal advice or an attorney-client relationship. If you are seeking legal advice, please contact our law firm directly.