How to Ride a Motorcycle During the Winter Season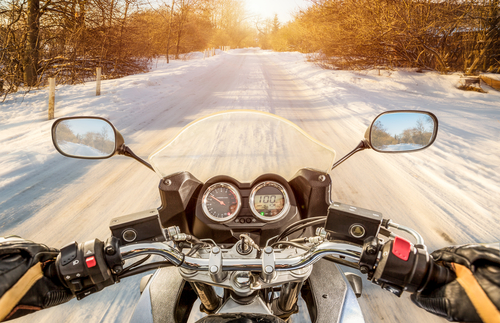 Winter in New Jersey is not always predictable. One day may be met with high amounts of snowfall, and another with sunlight and mild weather. Without the humidity that's present for much of the spring and summer in New Jersey, some might agree that this is actually the perfect time for motorcycling.
Can You Ride Your Motorcycle During the Winter in New Jersey?
Motorcycling in the winter in New Jersey is possible with a little preparation and the right protective equipment. This includes ensuring that your motorcycle is in good working condition and that you have the right safety equipment. If you plan to ride into the winter months, here are a few things you can do to prepare:
1. Choose the Right Helmet
In addition to a helmet that is approved by the Department of Transportation (DOT), you also want one that is fog-free. This will help you maintain visibility in foggier weather.
2. Check Your Motorcycle's Tires
Checking your motorcycle's tires is also crucial. Make sure the treading is in good condition and that the tires are prepared for winter. This will give you the traction you need to manage slippery roads.
3. Choose the Right Gear
Choosing the right gear for riding may be even more important in the winter months than it is in the spring. The wind with the colder temperatures can expose you to freezing conditions. The weather during the winter months can also be less predictable and wearing layers may help you accommodate that.
4. Check Your Motorcycle's Windscreen
Your windscreen is also important in preventing windchill from affecting you. A larger windscreen may be ideal for winter riding, and some riders may even equip their motorcycles with heated handgrips or seats, to add an extra layer of warmth.
Other Risks to Consider
In addition to the changing weather, there are a few other risks that winter motorcycle riders should be aware of, including:
Increased traffic: There may be an increase in traffic, especially during the upcoming holidays. Some of these drivers may be from out of town and may not know the local rules of the road.
Increased drivers under the influence: The holidays often lead to an increase in parties, which may mean there are more drivers on the road who are under the influence.
Black ice: Winter can also bring road dangers that aren't always easy to recognize, like black ice. Black ice may come out of nowhere, making it difficult to stay on the road.
Unplowed roads: Snowfall can block roads. If your city hasn't had a chance to remove it, navigating a motorcycle through it may not be possible.
Preparation is important when riding a motorcycle into the winter months. But, with a little planning and review of the most common dangers, you can enjoy the sport of motorcycling all throughout the year. It's also important to know what to do if you're involved in a motorcycle accident. Always receive immediate medical care and notify the local police of the accident.
If your injuries are severe, it may be worth it to reach out to a motorcycle accident lawyer.
Contact an Elizabeth Personal Injury Lawyer to Discuss Your Motorcycle Accident Case in New Jersey
Did you or a loved one sustain serious injuries due to an accident in New Jersey? Don't let the medical bills pile up while you wait for the negligent party or their insurance company to do the right thing. Right now, you need an aggressive personal injury attorney on your side, fighting to get you the compensation you need, want, and deserve. Attorney Andrew Prince Esq. represents clients injured because of a motorcycle accident in Newark, Jersey City, Paterson, Elizabeth, and throughout New Jersey. Call (908) 304-9187 or fill out our online contact form to schedule a free consultation about your case. We have an office conveniently located at 136 Central Avenue, Clark, New Jersey 07066, as well as an office in West New York, NY.
The articles on this blog are for informative purposes only and are no substitute for legal advice or an attorney-client relationship. If you are seeking legal advice, please contact our law firm directly.