New Jersey Car Driver Collides with Motorbikes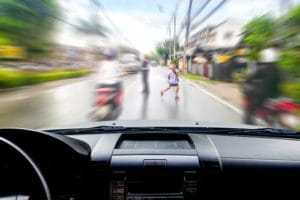 Three people were taken to the hospital after an accident that involved three motorcycles and a passenger car. According to the attending police officer, the car "collided" with the motorbikes. The car driver and two motorcycle riders were injured.
Unfortunately, the odds are stacked against the motorcyclist. Statistics show that motorcyclists are more susceptible to serious injuries if they're involved in a motor vehicle collision. Traffic safety reports show that thousands of New Jersey riders are injured each year. A motorcycle rider exposes his or her arms and legs, so a collision with a heavier passenger vehicle, truck, or bus often results in serious fractures to the motorcyclist's arms and legs.
Medical expenses, lost wages and income, and pain and suffering–both past and future–can be staggering.
According to The Washington Post, deaths from motorcycle crashes have risen 26 percent across the nation. Injuries to motorcyclists remain high because riders don't have access to collision avoidance systems or airbags.
The National Highway Traffic Safety Administration (NHTSA) reports that a motorcyclist is a stunning 26 times' more likely to die in a crash.
A motorcycle collision may involve a passenger car, a bus, a truck, or another motorcycle. They happen everywhere in New Jersey. About half of motorcycle collisions occur at intersections, according to the New Jersey Attorney General's Office.
In about 67 percent of cases in New Jersey, the motorist in the larger vehicle didn't notice the motorcycle and its rider. A biker making a turn, or an inexperienced biker is also more likely to lose control of their bike in an accident.
Obviously, there are financial benefits to riding a motorbike. The rider saves lots of money on fuel. It's possible to squeeze into a tight parking space. It's also delightful to experience the open road. But many of these factors contribute to the motorcyclist's vulnerability:
The smaller size of the motorcycle, when compared to the average passenger car, makes it difficult for distracted drivers sharing the road to notice the motorcyclist. This fact increases the likelihood of a crash.
The feeling of freedom has a dark side. There's nothing there to protect the rider in the event of an accident. The impact from a collision can send the rider onto the hard surface of the road or into oncoming traffic.
Motorcyclists who survive a crash may have debilitating serious injuries such as 1) head and brain injuries, concussions, 2) back injuries, herniated/bulging spinal discs, 3) wrist fractures and sprains, 4) broken bones, 5) serious hand injuries, 6) severe ankle and foot injuries, 7) shoulder injuries, rotator cuff tears, 8) muscle, nerve, and tendon injuries, 9) "road rash" on a large percentage of the body, and 10.) whiplash and neck injuries.
It's unfortunately common for those injured in a motorcycle accident to need custom orthotic shoes, crutches, or canes to walk. It's also common for these victims to undergo many diagnostic tests after a motorcycle accident, including x-rays, EMGs, MRIs, and CT scans.
After a motorcycle accident, it may be necessary to see emergency room physicians, orthopedic surgeons, physical therapists, chiropractors, pain management specialists, or neurologists. Treatment for the injury might involve many months of physical therapy or epidural injections to manage pain.
Some unfortunate victims suffer serious, long-lasting injuries that require surgical intervention, e.g. decompression, discectomy, fusion, or laminectomy surgeries. These people have suffered damage to the spine and need parts of the vertebrae surgically removed. They must endure the insertion of metal rods and pins to hold their injured spines and bones together. Recovery after these surgeries can take months or longer. In some cases, the patient doesn't completely recover.
New Jersey is a "no-fault" state. A victim who's hurt in a vehicle accident must pay for medical treatment, even if he or she isn't at fault. Determining what insurance cover you have after a motorcycle accident may be complicated.
Allow attorney Andrew Prince to look into your insurance coverage. Devote yourself to getting better. We can help you seek compensation for your damages after a motorcycle accident, including medical expenses, lost income and wages, future earnings loss, and pain and suffering. Contact Mr. Prince to schedule an initial case review at phone number 732-388-5454 or toll-free at 800-832-6529.
The articles on this blog are for informative purposes only and are no substitute for legal advice or an attorney/client relationship. If you are seeking legal advice, please contact our law firm directly.