Motorcycle Hits Guardrail and Leaves a Man Dead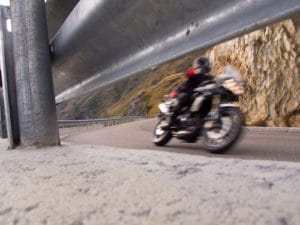 In early July, a man traveling southbound on the New Jersey Turnpike, died after hitting a guardrail with his motorcycle.
Police responded to a call a little after 2 a.m. earlier in July, with the caller reporting that a man was on the side of the road, laying near a motorcycle. The caller assumed only the worst, as it did not look as though the man near the motorcycle was moving.
Officers were on the scene within minutes, only to unveil a man who had suffered very serious injuries due to the accident. Though alive at the time the ambulance came, he died later that night in the hospital.
Because the call was not made until moments after the accident actually took place, it is not known if any other vehicles were involved in the man hitting the guardrail. As of currently, police do not believe alcohol or drugs have had an effect on the driver of the motorcycle, though, if another vehicle was involved, they may have been under the influence.
The lanes going southbound on the highway were closed for nearly five hours as police and other law enforcement investigated the scene. It has not been released as to whether or not the motorcycle driver was wearing a helmet at the time of the crash.
The unfortunate truth of the matter is that motorcycle accidents produce some of the most fatal vehicular accidents on average. Though helmets are much safer than no helmet, there is no guarantee of living a bad motorcycle accident.
Those that are fortunate enough to live a fatal accident are often left with life-threatening injuries. After those injuries are treated, it is important to find a lawyer who is experienced in every different  type  of motorcycle accident.
At TeamLaw, attorney Andrew Prince's specialty is motorcycle accidents, and he will do everything in his power to get you what you deserve. Contact Mr. Prince to schedule an initial case review at phone number 732-388-5454 or toll-free at 800-832-6529.
The articles on this blog are for informative purposes only and are no substitute for legal advice or an attorney/client relationship. If you are seeking legal advice, please contact our law firm directly.