Foreign College Student Faces Fatal Crash in New Jersey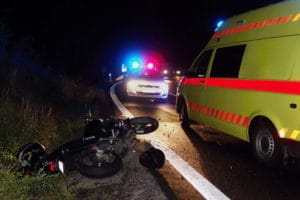 In the later weeks of July, a foreign exchange student from China was studying at a New Jersey college when he later passed away after receiving fatal injuries while riding his motorcycle.
He was a double major, studying both Economics and Art. Being a well-respected student on campus, the news was shocking to most. Police were called to investigate the scene around 5 p.m., responding to a deadly motorcycle accident on the New Jersey Turnpike.
Though minimal details have been released on the accident, witnesses claim that the student was heading southbound down the Turnpike, along with another car. Near mile marker 110.8, a Mercedes Benz collided with the motorcycle, as they were both traveling in the same direction.
It is not known who's fault the accident was, nor whether or not the student was wearing a helmet during the time of the accident.
The collision supposedly left the student alive but in very critical condition. Sometime between the ambulance ride, and arriving at the hospital, he passed away due to the injuries he sustained. Neither drugs nor alcohol is suspected to be a factor in the crash.
Motorcycle accidents are some of the worst auto accidents to date. Normally, they result in either very serious injuries, if not death. Wearing a helmet is something that is extremely important when riding. Though it certainly does not guarantee complete safety in the case of an accident, it helps the chances of survival by almost double.
If you or someone you know has suffered serious injuries because of a motorcycle accident, finding an experienced  lawyer to help your case should be the first step you make after treating your injuries. Attorney Andrew S. Prince specializes in motorcycle accidents and is among some of the best attorneys in his field. Consider contacting his office if you or someone you know has been in a serious accident. He will do everything he possibly can to get you everything you deserve. Contact Mr. Prince at phone number 732-388-5454 or toll-free at 800-832-6529 to schedule an initial case review today.
The articles on this blog are for informative purposes only and are no substitute for legal advice or an attorney/client relationship. If you are seeking legal advice, please contact our law firm directly.