Man Killed in Late-Night Motorcycle Crash, Police Say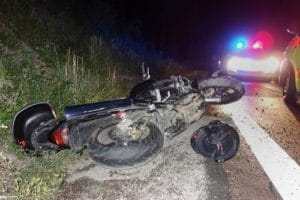 New Jersey state police have identified the victim of a tragic motorcycle accident that occurred near Milepost 3.2 on Route 50 last month. Police say that no other vehicles were involved in the crash, and experts are still unsure why the motorcyclist veered off the road. As the motorcycle left the road, he sadly collided with both a metal sign and a tree. He was pronounced dead at the scene. Investigators immediately closed the highway and extensively examined the scene of the accident for around three hours. The cause of this motorcycle accident is still unknown.
Unfortunately, motorcyclists are statistically much more likely to sustain serious injuries or be fatally wounded in an accident than riders in automobiles. Often, blame is mistakenly attributed to reckless driving on the part of the motorcyclist, but car drivers are notorious for failing to properly yield to motorcyclists. One of the most common causes of motorcycle accidents is collision with another vehicle. Cars making left-hand turns pose the most danger to motorcycles. Lane splitting, driving between two moving car lanes, is another common cause of accidents. Road hazards and poor driving conditions are particularly dangerous for motorcyclists because of the bike's less stable nature. Accidents can also be caused by collisions with immobile objects or manufacturer defect.
Attorney Andrew Prince's passion for riding motorcycles drives his determination for protecting the rights of injured bikers. He acknowledges the prejudice that riders experience both on the road and in the courtroom. For those interested, he provides educational lectures about rider's safety at his main New Jersey office. His 25 years of experience representing motorcycle accident victims in personal injury cases makes him the best advocate for you in court. When you're ready to move forward with your motorcycle accident case, contact Attorney Andrew Prince's law office at 1-800-832-6529.
The articles on this blog are for informative purposes only and are no substitute for legal advice or an attorney/client relationship. If you are seeking legal advice, please contact our law firm directly.