Why Your Motorcycle Insurance Is So Expensive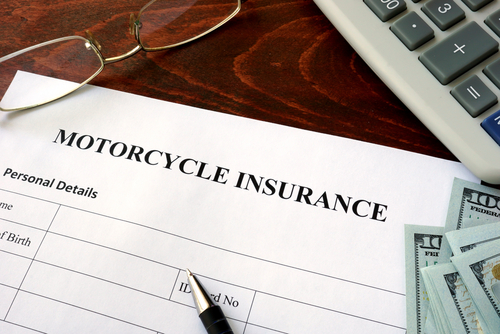 Motorcycle insurance, although necessary (and a legal requirement in New Jersey), can be pretty costly. The price of your premium will be dependent on whether or not the insurance company sees you as a high-risk or low-risk driver. Fortunately, there are many ways you can get a discount on your insurance and pay a lower price for being safe. Continue reading to learn more about the cost of motorcycle insurance in NJ.
Read more: How Motorcycle Insurance Works in New Jersey
What Causes My Premium to Go Up Beside An Accident?
Occupation
Your occupation can affect your insurance premium for a few different reasons. If your job makes you spend more time on your motorcycle, that could be a cause for your insurance to go up. Also, if your occupation puts you in the public spotlight there is a higher chance of vandalism which can also cause higher insurance premiums. Both of these job requirements put the insurance company at a higher risk of paying for the damage, thus making the cost of insurance more expensive. 
The Bike Itself
If you have a very expensive motorcycle, it will cost more to make repairs if you ever get into an accident. Therefore, insurance companies will charge more for the premiums. Additionally, if you have any accessories or modifications to your bike, you must declare those so they can be properly insured.
How Can I Save?
Security
Insurance rates are all based on risk, so having the best security for your bike can mean big discounts. A small way of securing your motorcycle is with an approved chain, which can yield a 2-3% discount on your insurance and data tagging can get you a 5% discount. Securing your bike with aftermarket alarm and an immobiliser can get you up to 10% discounted off your premium. Consider securing your motorcycle to get a discount on your insurance.
Multi-Bike Policy
If you own more than one motorcycle you can qualify for a multi-bike policy, which will be less expensive than having two separate policies. Using the multi-bike policy will reduce your entire premium. The multi-bike policy is less expensive than having two separate policies because you cannot ride both bikes at the same time and therefore there is a lower risk of damage to your bike.
Driving Experience
If you're an experienced driver, you can get a better quote from your insurance company. If you have completed any advanced training classes then insurers may offer you a discount for being a safe driver. 
Read more: What Do Collision and Comprehensive Motorcycle Insurance Cover?
Motorcycle Accidents and Claims
If you are in an accident you must inform your insurer, regardless of who's at fault or whether a claim has been made. This also applies to accidents in any other type of vehicle, including your motorcycle. If you are in a motorcycle accident you should hire a knowledgeable attorney who can help get you compensation for any damages or serious injury you sustained from the crash. 
Contact a West New York Personal Injury Lawyer to Discuss Your Motorcycle Accident Case in New Jersey
Did you or a loved one sustain serious injuries due to an accident in New Jersey? Don't let the medical bills pile up while you wait for the negligent party or their insurance company to do the right thing. Right now, you need an aggressive personal injury attorney on your side, fighting to get you the compensation you need, want, and deserve. Motorcycle accident attorney, Andrew Prince Esq. represents clients injured because of a motorcycle accident in Bayonne, East Orange, Union City, and throughout New Jersey. Call (908) 304-9187 or fill out our online contact form to schedule a consultation about your case. We have an office conveniently located at 136 Central Avenue, Clark, NJ 07066, as well as an office in West New York, NY.
The articles on this blog are for informative purposes only and are no substitute for legal advice or an attorney-client relationship. If you are seeking legal advice, please contact our law firm directly.