Is it Too Cold to Ride My Motorcycle?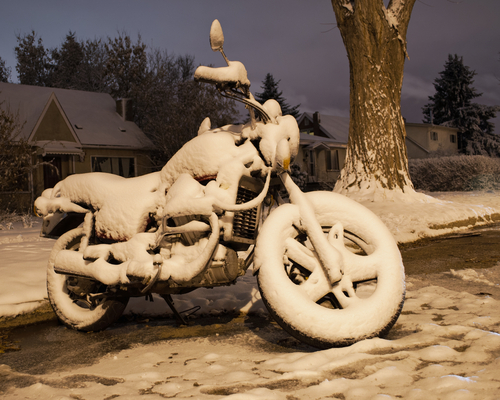 Just because the calendar has told you it's winter doesn't necessarily mean that you have to put your motorcycle into storage and forget about it until the spring. Some motorcycle enthusiasts might wonder how cold is too cold to ride?
What Are You Comfortable With?
First and foremost, your preferences matter when it comes to riding in the cold since you aren't shielded from the elements like other motor vehicles, so what works for other motorcyclists may not work for you.  
Read more: Important Safety Tips to Help Avoid a Motorcycle Accident This Winter
When to Avoid Motorcycling
Regardless of your preferences, it is important to avoid motorcycling during certain temperatures or conditions:
Below freezing: When the temperature reaches below 32-degrees Fahrenheit or 0-degrees Celsius, it is considered freezing. During these temperatures, ice will likely form. This means that you could slide on the ice or be subject to freezing conditions. The freezing temperatures also put you at risk of hypothermia.
During snowstorms: It is also not ideal to ride your motorcycle during a snowstorm. Snow can turn to freezing rain and the conditions are unpredictable.
Lack of experience: Navigating winter roads takes experience. If you are newer to motorcycling, it may be best to avoid winter driving.
Other conditions: Compiling other dangerous conditions, like driving under the influence or driving while fatigued, can make winter motorcycling even more dangerous.
It is also important to keep in mind that air temperature is not the same as ground temperature. The air will often feel colder because of the wind. Ignoring cold weather could lead to dangerous motorcycling conditions, especially when paired with certain winter conditions like freezing rain or snow.
However, you will also want to monitor the ground weather. If the ground is below freezing, it can quickly turn to ice, making it difficult for motorcyclists to navigate. Black ice is also not uncommon. This happens when you can't see the ice until you have already hit it and are already moving out of control.
How to Ride During the Winter
It may be possible to still ride your motorcycle on a warm, winter day. These tips will help you do so:
Wear protective gear: In addition to the helmet and padding that is already recommended, it is also a good idea to wear winter gear like hats and gloves.
Check the weather first: Winter weather is not always predictable. Always check the weather before leaving the house
Stay close to home: If you do choose to ride during the winter months, stay close to home. That way you can always find alternative transportation if the weather gets bad.
Always have a backup: A backup plan is always good in case the weather gets bad. Call for rideshare or call a friend to pick you up instead.
Read more: What Should I Check After a Motorcycle Accident?
Know Your Rights Following a Motorcycle Accident
If you are in a motorcycle accident, it is important to know your rights. Discuss your motorcycle accident case with an experienced personal injury lawyer today to find out if you are eligible for compensation.
Contact a Jersey City Personal Injury Lawyer to Discuss Your Motorcycle Accident Case in New Jersey
Did you or a loved one sustain serious injuries due to a motorcycle accident in the state of New Jersey? Don't let the medical bills pile up while you wait for the negligent party or their insurance company to do the right thing. Right now, you need an aggressive personal injury attorney on your side, fighting to get you the compensation you need, want, and deserve. Personal injury attorney Andrew Prince Esq. represents clients injured because of a motorcycle accident in Trenton, Bayonne, West New York, Union City, and throughout New Jersey. Call (908) 304-9187 or fill out our online contact form to schedule a consultation about your case. We have an office conveniently located at 136 Central Avenue, Clark, New Jersey, 07066, as well as an office in West New York, NY.
The articles on this blog are for informative purposes only and are no substitute for legal advice or an attorney-client relationship. If you are seeking legal advice, please contact our law firm directly.