Motorcycle Property Damage Claims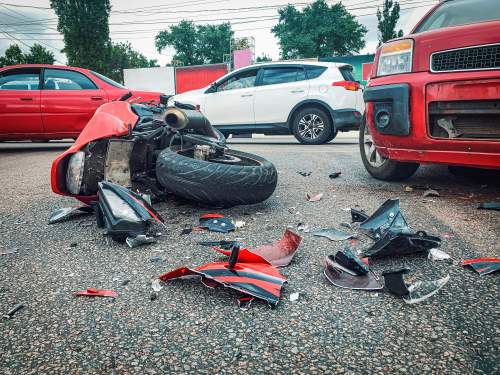 Many people focus on the injuries they sustain following a motorcycle accident instead of the property damages. While this is expected since motorcyclists often experience severe and costly injuries, the cost of property damages shouldn't be overlooked. It is important to consider these costs in addition to your medical damages when filing a claim for compensation.
Recoverable Motorcycle Property Damages
Motorcyclists often value their motorcycles greatly. They may have put hours of hard work and thousands of dollars into their dream motorcycle. When it is damaged or totaled following an accident, it can be just as stressful as the fact of being in an accident. Fortunately, depending on the details of the accident, you may be eligible to recover some of the property damages through a personal injury case, including:
Costs involved in repairing the motorcycle
Costs involved in replacing the motorcycle
Custom parts you had on the motorcycle
The private property you had in the motorcycle
These are all important costs to consider. If your motorcycle is damaged in an accident, it is always a good idea to do a complete inventory of items.
Pain and Suffering Following a Motorcycle Accident
In addition to your injuries and property damages, being in a motorcycle accident can also lead to pain and suffering. There is no disagreement that being thrown from a motorcycle is painful. Recovery can be long and frustrating. But, you also have to think about the emotional suffering you experience. You may be fearful of riding on a motorcycle, even though it was something you once looked forward to. You also might have to consider alternative transportation to get to and from work or to complete daily errands.
Diminished Value of Your Motorcycle Following an Accident
Another thing to consider is the diminished value of your motorcycle. Even if your motorcycle is not totaled, the simple fact of it being in an accident and needing repairs can reduce its value. This is something that you should not have to cover on your own. These are the often forgotten parts of a motorcycle accident case. We know that these costs are just as important as recovering your medical bills.
Hire a Motorcycle Lawyer You Can Trust
Motorcycle accidents are unique in that the injuries are often severe and the motorcycle itself is almost always damaged. This is why you need a motorcycle lawyer who not only understands New Jersey's motorcycle laws but that also is familiar with the many implications of being in an accident.
You need a lawyer who will fight for your rights and help you receive compensation to make your life as normal as possible.
Many motorcycle accidents are settled out of court. Before accepting a settlement offer from the at-fault driver or your insurance company, you want to ensure that you receive enough funds to sufficiently cover your damages, including those done to your motorcycle.
Contact A Jersey City Personal Injury Lawyer to Discuss Your Motorcycle Accident Case in New Jersey
Did you or a loved one sustain serious injuries due to a motorcycle accident in New Jersey? Don't let the medical bills pile up while you wait for the negligent party or their insurance company to do the right thing. Right now, you need an aggressive personal injury attorney on your side, fighting to get you the compensation you need, want, and deserve. Personal injury attorney, Andrew Prince Esq. represents clients injured because of a motorcycle accident in Jersey City, Clifton, Trenton, Union City, and throughout New Jersey. Call (908) 304-9187 or fill out our online contact form to schedule a consultation about your case. We have an office conveniently located at 136 Central Avenue, Clark, New Jersey 07066, as well as an office in West New York, NY.
The articles on this blog are for informative purposes only and are no substitute for legal advice or an attorney-client relationship. If you are seeking legal advice, please contact our law firm directly.