Common Motorcycle Accidents and How to Avoid Them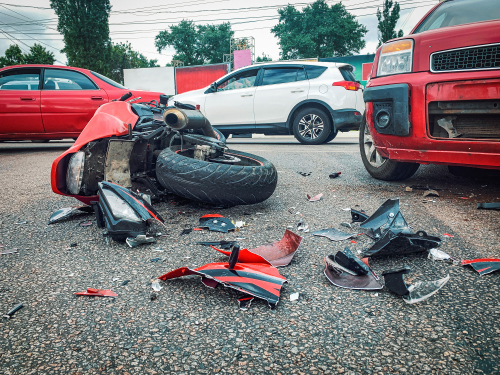 There's no debate that riding a motorcycle can be dangerous. It can be helpful to review some of the most common types of motorcycle accidents and review tips to avoid them.
Left-Turning Cars
One of the most common causes of motorcycle accidents occurs when a car makes a left turn in front of a motorcyclist. The car turning left may not notice the motorcyclist, hitting them when they're going straight through an intersection or trying to overtake the car.
You can avoid a left-turn car accident by being aware of your surroundings at all times. Try to anticipate other drivers' actions, like if they're in an intersection waiting to turn or there's a space in traffic in front of you.
Lane-Switching
A fair share of motorcycle accidents occurs when a car switches lanes. Even if the driver glances in their rearview mirror, they may not notice the smaller space that a motorcyclist takes up.
It's important to be aware of other drivers, predicting when they might turn. This might include looking out for turn signals or a car beginning to shift into another lane.
Lane-Splitting Accidents
A lane-splitting accident occurs when a motorcyclist drives in someone else's lane, usually in heavy traffic conditions.
Avoid lane-splitting accidents by not sharing the lane with other drivers. This type of riding can lead to an accident due to the closeness to other vehicles and the reduced speed of the motorcyclist.
Head-On Collision
A head-on collision is one of the most common causes of motorcycle accidents that leads to the worst injuries. This occurs when a car and a motorcyclist hit one another head-on, often causing life-changing injuries for the motorcyclist, and sometimes the driver.
Experts recommend using the four R's when avoiding a head-on collision. This means read the road ahead, drive to the right, reduce your speed, and ride off the road when needed.
Drunk Driving
Drunk driving not only contributes to traditional car accidents but also a high frequency of motorcycle accidents. Drinking and driving reduce your reaction time, which can be dangerous regardless of what type of vehicle you're driving. Because riding a motorcycle often requires a lot of focus, it's best to avoid drinking and riding.
Avoiding a motorcycle accident from drunk driving is important. Make alternative plans when you plan on drinking.
Turning a Corner
A turning a corner accident occurs when the motorcyclist turns a corner. They may take the corner too tight, falling or hitting other objects.
The best way to avoid this type of motorcycle accident is to slow down and turn at an appropriate speed.
Distracted Accidents
Distracted driving is especially dangerous. This may include using a smartphone or even turning your music up too loudly, distracting your focus from the road.
Try to avoid distractions as much as possible when riding. This gives you more time to be defensive when presented with dangerous conditions.
High-Speed Accidents
High-speed accidents occur when a motorcyclist is going too fast and doesn't have time to come to a stop. You can avoid a high-speed accident by paying attention and following speed limit signs.
Contact a West New York Personal Injury Lawyer to Discuss Your Motorcycle Accident Case in New Jersey
Did you or a loved one sustain serious injuries due to an accident in New Jersey? Don't let the medical bills pile up while you wait for the negligent party or their insurance company to do the right thing. Right now, you need an aggressive personal injury attorney on your side, fighting to get you the compensation you need, want, and deserve. Andrew Prince Esq. represents clients injured because of motorcycle accidents in Jersey City, Paterson, Trenton, Camden, and throughout New Jersey. Call (908) 304-9187 or fill out our online contact form to schedule a free consultation about your case. We have an office conveniently located at 136 Central Avenue, Clark, New Jersey 07066, as well as an office in West New York, NY.
The articles on this blog are for informative purposes only and are no substitute for legal advice or an attorney-client relationship. If you are seeking legal advice, please contact our law firm directly.