Are Motorcycle Accidents More Likely to Occur in Wet Weather Conditions?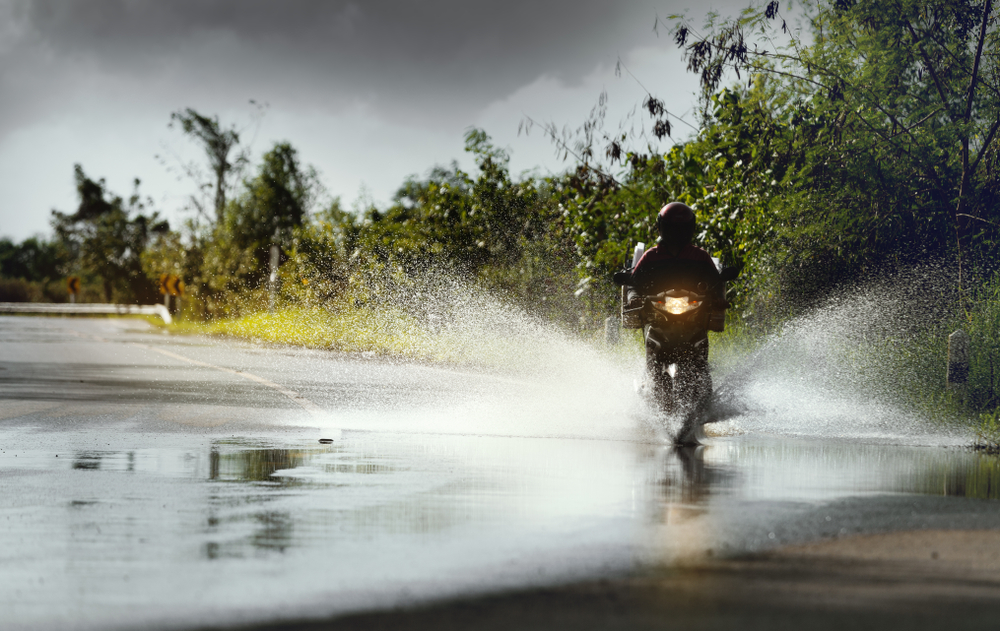 Driving in wet weather brings unique challenges, whether you're driving a passenger vehicle, commercial truck, bicycle, or motorcycle. Motorcycle accidents are more likely during wet weather, and learning the reasons why can help you plan for safer motorcycling during the upcoming rainy season.
Why Wet Weather is More Dangerous for Motorcyclists
There are a few reasons why riding a motorcycle during a rainstorm may be more dangerous, including:
Reduced visibility: Rain, especially heavy rainfall, can reduce visibility for everyone on the road. Drivers may have difficulty seeing out their windshields. This may lead to them making improper turns or changing lanes without noticing a motorcyclist. The reduced visibility can also affect the motorcyclist's ability to make safe lane changes.
Reduced brake power: Rain also makes the roads wet, which can impact your ability to come safely to a stop. This can lead to an increase in rear-end accidents, which can potentially throw a motorcyclist off their bike. The reduced brake power can also affect the motorcyclist's ability to stop safely at stop signs or red lights.
Heavy wind: Some rainstorms bring with them heavy winds. Motorcycles are more subject to the crosswinds pushing the motorcyclist into nearby lanes.
Inability to see road hazards: Heavy rain doesn't just limit the visibility of other drivers and passengers but also makes it more difficult to notice road hazards.
Motorcycles have fewer points of contact with the road, which makes riding during wet, slippery weather more dangerous. Most of today's vehicles also have built-in features, like all-wheel-drive and traction control, that help them stay safely in their lanes. Most motorcycles don't have these same features, which can make riding them in the rain more dangerous.
Rain and Motorcycle Safety Tips
It's best to avoid riding during a rainstorm if possible. It's also a good idea to wait a few hours to ride after a rain storm to ensure the roads have sufficient time to dry. Rain can make the roads slippery, and puddles of brake fluid or oil may still be wet hours after it rains. It's also a good idea to have alternative transportation in case it starts raining before you head home.
If you must ride in the rain, it's best to be overly cautious. Drive below the speed limit, stay aware, and pull over if the rain gets too heavy. Recognize that your brakes may not work the same as they usually do, so you may need to give yourself more time to brake.
Always wear a DOT-approved helmet and keep a warm riding suit in your storage basket for rainy days. Choosing bright, reflective colors is best to ensure you're seen.
Injured in a Motorcycle Accident?
If you are injured in a motorcycle accident, taking certain steps to protect your legal rights is important. Always receive medical care right after the motorcycle accident. Then, begin collecting any proof you may have that points to another driver being responsible. This includes photographs or videos of the scene of the accident. It also includes the contact information of any witnesses. If you were injured while riding in the rain, you may be able to recover your costs through a personal injury case.
Contact a Newark Personal Injury Lawyer to Discuss Your Motorcycle Accident Case in New Jersey
Did you or a loved one sustain serious injuries due to an accident in New Jersey? Don't let the medical bills pile up while you wait for the negligent party or their insurance company to do the right thing. Right now, you need an aggressive personal injury attorney on your side, fighting to get you the compensation you need, want, and deserve. Andrew Prince Esq. represents clients injured because of an accident in Newark, Jersey City, Paterson, Elizabeth, and throughout New Jersey. Call 732-388-5454 or fill out our online contact form to schedule a free consultation about your case. We have an office conveniently located at 136 Central Avenue, Clark, NJ 07066, as well as an office in West New York, NJ.
The articles on this blog are for informative purposes only and are no substitute for legal advice or an attorney-client relationship. If you are seeking legal advice, please contact our law firm directly.