Should You Ride Your Motorcycle in the Rain?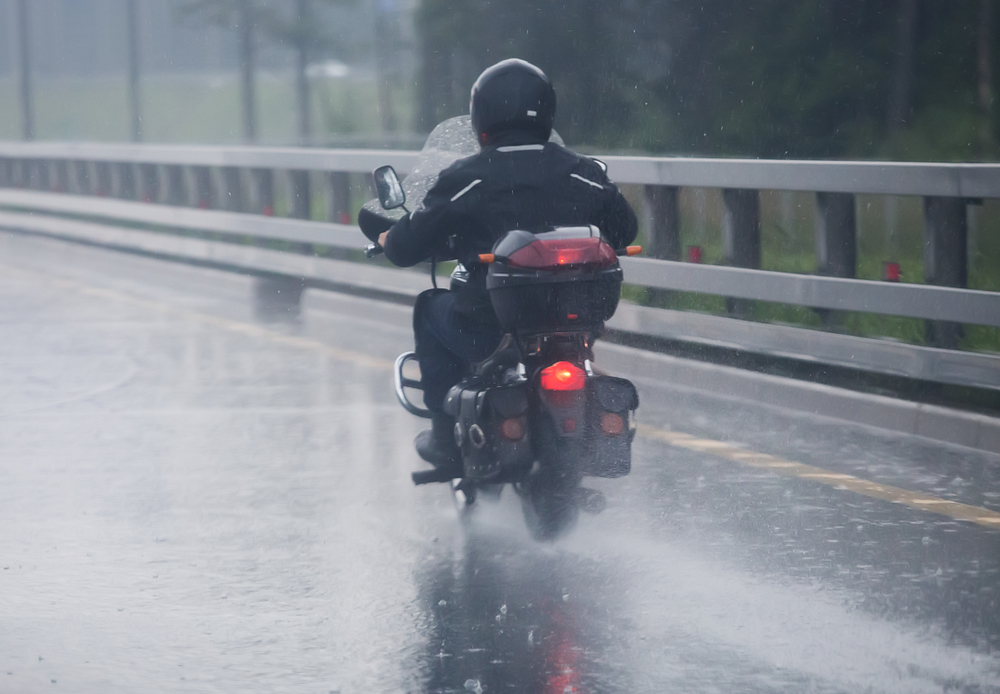 While it's possible to ride your motorcycle in the rain, it does present some risks. In addition to the slippery roads, heavy rainfall may make it difficult for other drivers to notice you. However, even when you vow never to ride in the rain, sometimes you may be stuck without any other choice to do so. In these cases, following a few safety rules can help you stay safe.
Check the Weather
It's always a good idea to check the weather before heading out on your motorcycle. Summer in New Jersey can go from sunshine to rain within a few minutes. Even if it's already raining and you don't have any other choice, check for times during the day that the rain may let up a little, so you can drive home safely.
Maintain Visibility
Reduced visibility is one of the biggest concerns with motorcycling in the rain. If you're going to ride in the rain, make sure you have an anti-fog helmet or goggles so you can still see. Wearing lighter clothing or reflective tape on your bicycle can also ensure that other drivers see you. If possible, wear a face shield so you can also protect your eyes when riding.
Invest in High-Quality Gear
Riding around in normal clothing when it rains can be very uncomfortable. The temperatures often drop with rain, and when you combine the potential wind, it can be dangerous. Make sure you're wearing waterproof clothing items if you have to ride in the rain. Keeping a pair of waterproof gloves and boots in your interior compartment can also be a good idea to help maintain grip and traction.
Take Extra Care When Riding
Motorcycling in the rain adds an element of risk, so it may be best to avoid other things that could also be dangerous. This includes drinking and driving or anything that may be distracting to you. Try not to follow vehicles in front of you as closely and begin slowing down further than you would normally at red lights or stop signs.
Check Your Motorcycle's Condition
You also don't want to experience motorcycle problems while riding in the rain. Do a quick evaluation of your bike to make sure it's in good shape. This includes checking the air in the tires or inspecting that your brakes are working well. This is also a good time to check your oil and brake fluid to ensure both are filled sufficiently.
We recommend avoiding riding when it's raining. But, we also understand that sometimes there isn't anything you can do. For some, a motorcycle may be their only method of transportation, especially if it is sunny when you leave for the day.
You can't rely on other drivers to be careful when riding. This applies to both sunny and rainy days. Knowing what to do if you're in a motorcycle accident can also be a good idea. Always receive medical care following an accident, begin gathering evidence as quickly as possible, and then consider contacting a lawyer.
Motorcycle accidents are often severe, which can lead to a lot of incurred expenses. A lawyer may be able to help you recoup some of the costs.
Contact a Newark Personal Injury Lawyer to Discuss Your Motorcycle Accident Case in New Jersey
Did you or a loved one sustain serious injuries due to a motorcycle accident in New Jersey? Don't let the medical bills pile up while you wait for the negligent party or their insurance company to do the right thing. Right now, you need an aggressive personal injury attorney on your side, fighting to get you the compensation you need, want, and deserve. Andrew Prince Esq. represents clients injured because of a motorcycle accident in Newark, Jersey City, Paterson, Elizabeth, and throughout New Jersey. Call (908) 304-9187 or fill out our online contact form to schedule a free consultation about your case. We have an office conveniently located at 136 Central Ave Suite 301, Clark, NJ 07066, as well as an office in West New York, NJ.
The articles on this blog are for informative purposes only and are no substitute for legal advice or an attorney-client relationship. If you are seeking legal advice, please contact our law firm directly.