Most Common Types of Motorcycle Accident Injuries and What to Do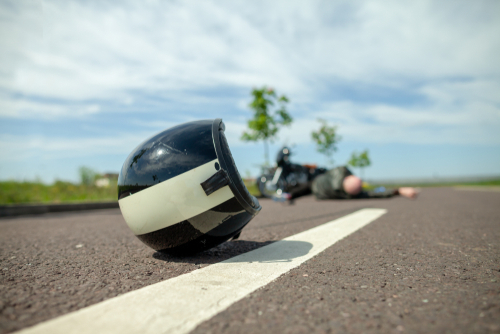 Motorcycle accidents happen unexpectedly but almost always end with injuries. Because motorcyclists have few protections from harm, they are most likely to obtain severe and even life-threatening injuries in the event of an accident. By understanding the types of injuries that result from these accidents and what you can do, you can be better prepared for a motorcycle accident.
Common Motorcycle Injuries Stemming from New Jersey Accidents
Muscle Damage: In the event of a motorcycle accident, any of the 600 muscles in our bodies can become damaged. Wounded muscles take time to heal, which means that you could see anywhere from a few days to a few months before you are feeling better. It depends on the circumstances of your accident and how hard you hit the ground.
Arm and Leg Injuries: When a motorcyclist hits the ground, they are more likely to sustain injuries to their arms and legs. The most common types of injuries, of course, are fractures and injuries to the tendons and muscles. When you brace for a fall from a motorcycle, the natural reaction is to land on an arm or leg, which then leads to one of these injuries.
Head Injuries: Even while wearing protective gear, head injuries can occur in the blink of an eye. Wearing a helmet increases the chance that you will not sustain a life-threatening brain injury. Motorcyclists are at risk for concussions and traumatic injuries to the brain, which is why they should always consider wearing a helmet.
Facial Injuries: Helmets typically protect the top and sides of the head but will not protect the face as well in many circumstances. This means that there is a high risk for facial injuries, which can lead to cuts and scarring.
Spinal Cord Injuries: Spinal cord injuries include anything from bruised spines to slipped discs and breaks. A person can easily become paralyzed if they are severely injured in a motorcycle accident.
Emotional Distress: Emotional trauma such as PTSD can also stem from a motorcycle accident. Injuries tend to heal, but emotional distress can stick around.
What to Do Following a Motorcycle Accident
Every motorcycle accident is different, but there are some steps that everybody should take after a serious accident, including the following:
Receive medical attention immediately.
Speak with the police and obtain the police report.
Take photographs of the accident scene including the damage to your bike, as well as your injuries.
Get insurance and contact information from all involved in the accident and witnesses at the scene.
Contact your personal insurance company after the accident.
Stay calm after your accident.
Speaking with a motorcycle accident attorney is your best option following a severe accident. No amount of money can make your experience any easier, but receiving compensation for your damages can sometimes help you move forward when a party has caused you significant harm.
Contact an Elizabeth Personal Injury Lawyer to Discuss Your Motorcycle Accident Case in New Jersey

Did you or a loved one sustain serious injuries or financial loss due to a motorcycle accident in New Jersey? Don't let the medical bills pile up while you wait for the negligent party or their insurance company to do the right thing. Right now, you need an aggressive personal injury attorney on your side, fighting to get you the compensation you need, want, and deserve. Personal injury attorney Andrew Prince Esq. represents clients injured because of motorcycle accidents in Jersey City, Elizabeth, Trenton, Passaic, and throughout New Jersey. Call (908) 304-9187 or fill out our online contact form to schedule a consultation about your case. We have an office conveniently located at 136 Central Avenue, Suite 301, Clark, NJ 07066, as well as an office in West New York, New York.
The articles on this blog are for informative purposes only and are no substitute for legal advice or an attorney-client relationship. If you are seeking legal advice, please contact our law firm directly.