Have the Winter Motorcycle Blues?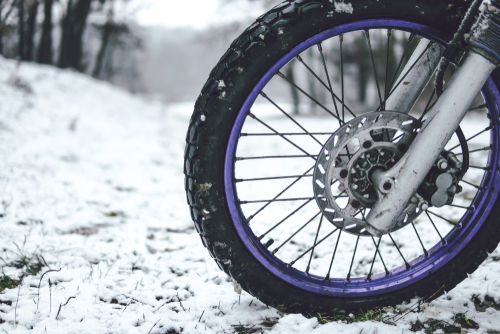 If you live in a place where the winter months get cold and snowy, you more than likely will have your bike stored away until spring.  This can be a boring time for riders who are used to being out on the open road.  Even if you are bikeless for the winter, you still have options for motorcycle-related activities.  Here are a few things you can do to pass the time until you and your bike are back on the road.
Shop for Bike Upgrades
If you cannot ride, shop for upgrades. It will also pass the time if you plan on working on the bike yourself.
Upgrade Your Riding Gear
Over the holidays there are a lot of great deals on rider gear.  If you have been thinking of getting a new jacket, upgrading your helmet, or other apparel now is a perfect time.  
Clean Your Bike
Now that your motorcycle is stored away, it is the perfect time to clean it. Since you will not have it out on the road, you will be able to clean every nook and cranny. Cleaning your motorcycle guarantees that the paint or finish will not degrade while the bike is sitting in storage.
Look for Winter Events
Even though there are not a lot of bikes on the road in winter, there are still a ton of motorcycle events you can pass the time at. There are custom bike shows for everyone.  
Read Great Motorcycle Content
There are countless motorcycle books and publications for riders to read. Check out your local bookstore or library for some great books or magazines. You could also subscribe to newsletters from your favorite motorcycle companies and brands.
While motorcycle riding is limited in the winter, the above suggestions can help keep motorcycling in your life throughout the season.  Andrew Prince promotes motorcycle awareness with the "Watch for Motorcycles" message.  Check out Rider Education of New Jersey to sign up for a class this spring. You will not regret it. You will thank me.  
I am always here for you if you have been injured in a motorcycle accident.  I have recovered millions for my clients.  There is never a charge for a consultation.  You can contact me anytime at (800) 832-6529 or (732) 388-5454.  You can also email me at aprinceesq@aol.com.  Healthy and Happy Holidays.
Contact an Elizabeth Personal Injury Lawyer to Discuss Your Motorcycle Accident Case in New Jersey

Did you or a loved one sustain serious injuries due to an accident in New Jersey? Don't let the medical bills pile up while you wait for the negligent party or their insurance company to do the right thing. Right now, you need an aggressive personal injury attorney on your side, fighting to get you the compensation you need, want, and deserve. Attorney Andrew Prince Esq. represents clients injured because of a motorcycle accident in Newark, Jersey City, Paterson, Elizabeth, and throughout New Jersey. Call (908) 304-9187 or fill out our online contact form to schedule a free consultation about your case. We have an office conveniently located at 136 Central Avenue, Clark, New Jersey 07066, as well as an office in West New York, NY.
The articles on this blog are for informative purposes only and are no substitute for legal advice or an attorney-client relationship. If you are seeking legal advice, please contact our law firm directly.