First Steps You Should Take After a Motorcycle Accident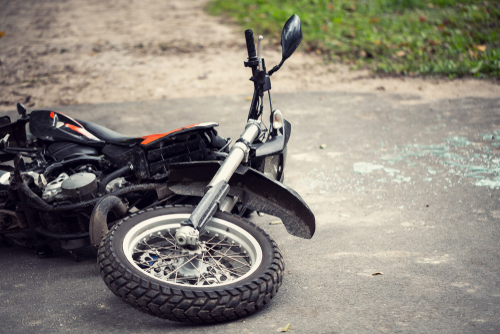 The time immediately following a motorcycle accident can be hectic and overwhelming. It can be easy to miss important steps that could affect your health and legal rights. Reviewing what to do if you're in a motorcycle accident ahead of time can help ensure you don't miss any important steps.
Important Steps to Take Following a Motorcycle Accident
Here are a few important things to do immediately following a motorcycle accident:
Notify the Police and File a Report
It's usually a good idea to notify the police and to file an official report. This creates a paper trail for insurance claims or legal options if you need them. The police will also call an ambulance, providing anyone access to medical care, if needed. If possible, it can also be a good idea to notify your insurance company at the same time. You'll likely have to wait for the police to arrive so this can be a good time to reach out to them.
Receive Immediate Medical Treatment
Evaluate your condition, and anyone else's involved in the motorcycle accident, and seek medical care if needed. Even if you feel okay, it's usually a good idea to be evaluated by a medical provider. Many injuries may not show up until later after the fear from the accident wears off.
Steps to Take After the Accident
Once you have filed a police report and received any medical care that you need, you may want to consider the following important steps:
Notify Your Insurance Company
If you haven't yet had the chance to do so, notify your insurance company that you were in an accident. While you want to tell them the details of the accident and provide them with any information they request, you don't want to admit blame. If you collect additional details later on that demonstrate that someone else is to blame, it may be too late to change your statement.
Consider the Details of the Accident
Once you have had a chance to sit back and think about what happened, it's time to consider the details of the accident. Think about things like how much the accident has cost you, and what it will likely cost you further. Consider who will cover your motorcycle's damages. It can also be helpful to think about the details that led to the accident.
If someone else is to blame, they may also be liable for your damages. Depending on your insurance coverage, you may need that compensation to repair your motorcycle.
Discuss Your Case with a Lawyer
If you are subject to expensive costs and you believe that someone else is to blame, then you may have a legal case. Filing a lawsuit in New Jersey courts can help you collect the compensation you need to recover. This may include not only your medical bills, but also the funds to repair your motorcycle, any lost wages you have incurred, and any other costs related to the accident. Discussing your case with a lawyer is also time-sensitive. New Jersey limits your time to file a claim for a motorcycle accident to just two years from the date of the accident.
Make sure you consider your legal options before you're no longer eligible. The first step is to reach out to a New Jersey injury lawyer.
Contact a Newark Personal Injury Lawyer to Discuss Your Motorcycle Accident Case in New Jersey
Did you or a loved one sustain serious injuries due to an accident in New Jersey? Don't let the medical bills pile up while you wait for the negligent party or their insurance company to do the right thing. Right now, you need an aggressive personal injury attorney on your side, fighting to get you the compensation you need, want, and deserve. Andrew Prince Esq. represents clients injured because of motorcycle accidents in Newark, Jersey City, Paterson, Elizabeth, and throughout New Jersey. Call 1-800-832-6529 or fill out our online contact form to schedule a free consultation about your case. We have an office conveniently located at 136 Central Avenue, Clark, New Jersey 07066, as well as an office in West New York, NY.
The articles on this blog are for informative purposes only and are no substitute for legal advice or an attorney-client relationship. If you are seeking legal advice, please contact our law firm directly.