6 Common Motorcycle Crashes and How to Avoid Them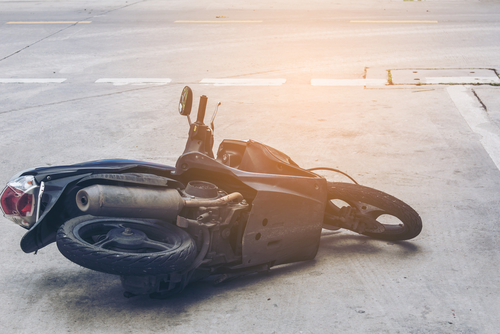 Motorcycle crashes are an all too common occurrence on New Jersey's roads. While many things can lead to dangerous roads and an increase in motorcycle risk, there are a few common types of crashes to know.
New Jerseys' Most Common Motorcycle Crashes
Understanding the most common types of motorcycle accidents and what leads to them can help you take the steps to ensure safer motorcycling. Whether you are the driver of a passenger vehicle or a motorcyclist, it is important to be aware of your surroundings to avoid a collision that can be damaging. These are the most common types of motorcycle crashes:
Left Turn Accidents
Perhaps the most common type of motorcycle accident occurs when a passenger vehicle is turning left and the motorcyclist comes straight through the intersection. While the driver who is making the left turn is likely to be held liable, it is usually the motorcyclist that is injured the most. You can avoid a left turn accident with the following tips:
Don't attempt a left turn when illegal
Be aware of pedestrians or cyclists
Avoid speeding up to turn left
Only turn left when both lanes are clear
It is best to avoid rushing when turning left. Make sure the lane is clear before proceeding.
Switching Lanes
Because motorcyclists take up less space, they are at risk of another vehicle switching lanes into their lane. You can avoid a switching lane accident with the following tips:
Be aware of vehicles in lanes near you
Double check that a lane is open before switching
It is also a good idea to be aware of the other lanes, in the event that you have to quickly move out of yours to prevent a collision.
Head-On Collision
Not only are head-on collisions possible as a motorcyclist, but they tend to be the worst type of accident. You can avoid a head-on collision with the following tips:
Maintain a legal and safe speed
Stay in the right lane
Be aware of the road ahead at all times
Ride off the road when needed to prevent a head-on accident
It is important to avoid distractions, as they can easily lead to a head-on collision.
Lane Splitting Accidents
Lane splitting is common among motorcyclists because motorcycles take up less lane space. You can avoid a lane splitting accident with the following tips:
Avoid lane splitting altogether
Ensure enough space for other vehicles on the road
It is best to avoid lane splitting entirely as it can be distracting and dangerous.
Turning a Corner Collision
Many motorcyclists will suffer injuries as they turn a corner with speed. You can avoid a corner collision with the following tips:
Slow your speed before turning
Be aware of the road terrain
It is also important to be aware of poor weather or road conditions.
Operating a Vehicle or Motorcycle Under the Influence
When you drive under the influence, whether it is a vehicle or a motorcycle, you increase the chances of being in an accident. Drivers of all types should avoid driving under the influence.
Contact a West New York Personal Injury Lawyer to Discuss Your Motorcycle Accident Case in New Jersey
Did you or a loved one sustain serious injuries due to a motorcycle accident in New Jersey? Don't let the medical bills pile up while you wait for the negligent party or their insurance company to do the right thing. Right now, you need an aggressive personal injury attorney on your side, fighting to get you the compensation you need, want, and deserve. Attorney Andrew Prince, Esq. represents clients injured because of motorcycle accidents in Newark, Jersey City, Union City, Trenton, and throughout New Jersey. Call (908) 304-9187 or fill out our online contact form to schedule a consultation about your case. We have an office conveniently located at 136 Central Avenue, Clark, New Jersey 07066, as well as an office in West New York, New York.
The articles on this blog are for informative purposes only and are no substitute for legal advice or an attorney-client relationship. If you are seeking legal advice, please contact our law firm directly.